Global vision
We operate in the five continents through our network of distributors and strategic allies, always preserving our values and guarantee of quality
orache distributors
Global excellence to improve the whole of society
Orache Desinfection's strategic alliances draw a global network that allows us to adapt our solutions to the needs of each client, no matter in which country or hemisphere they are located.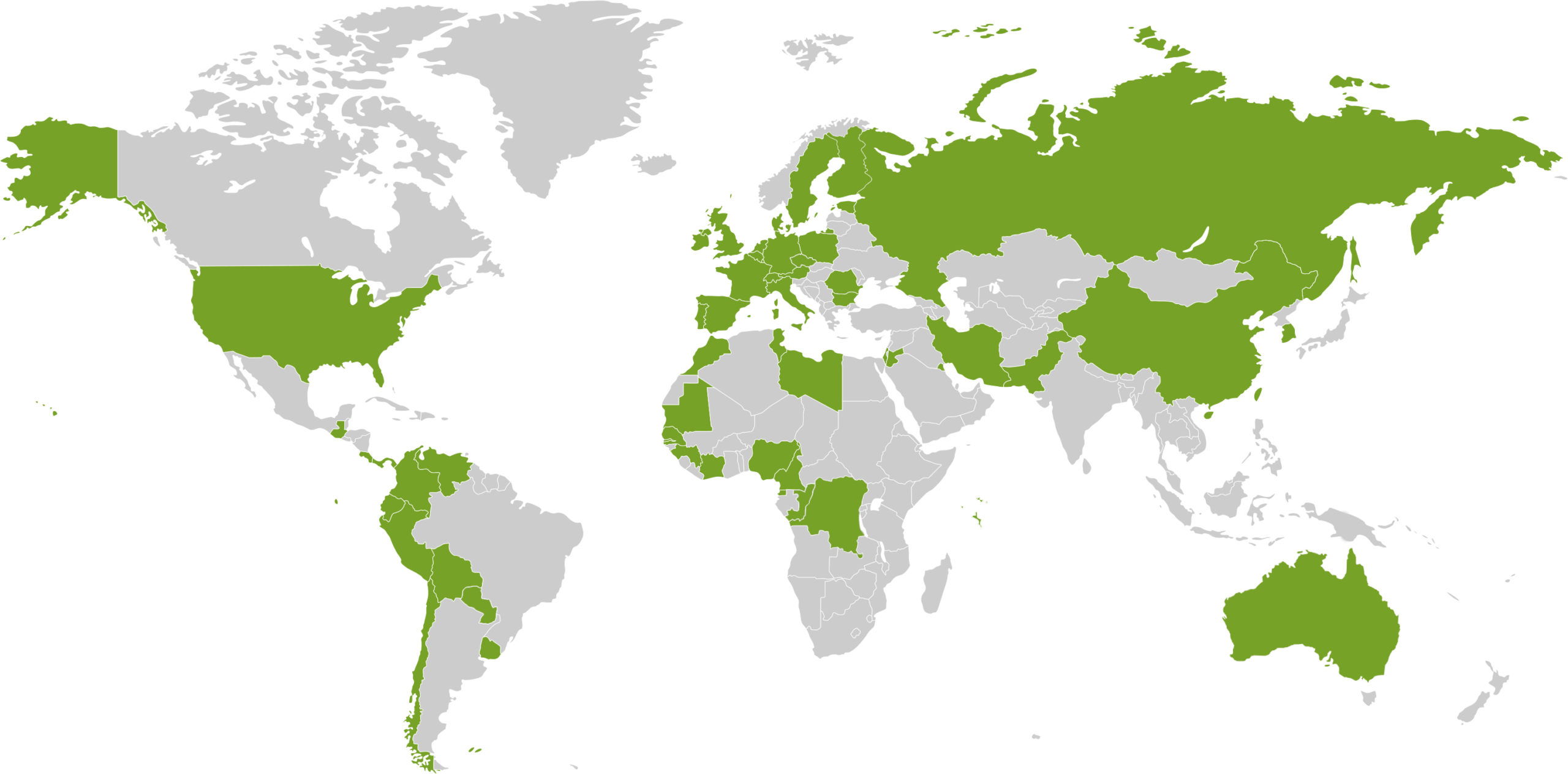 África
Camerún
Congo
Costa de Marfil Gambia
Guinea
Guinea Ecuatorial
Islas Seychelles
Libia
Marruecos
Mauritania
Nigeria
Senegal
Túnez
República Democrática del Congo
Asia
Asia
Corea del Sur
China
Irán
Israel
Jordania
Kuwait
Pakistán
América
América
Bolivia
Chile
Colombia
Costa Rica
Ecuador
Estados Unidos
Guatemala
Panamá
Paraguay
Perú
Uruguay
Venezuela
Europa
Austria
Alemania
Bélgica
Bulgaria
Dinamarca
España
Estonia
Finlandia
Francia
Holanda
Italia
Irlanda
Luxemburgo
Malta
Polonia
Portugal
Reino Unido
República Checa
Rumanía
Rusia
Suecia
Suiza
Mamadou Diop
Sales Manager Central Africa
With 10 years of experience in France and Switzerland as a seller in the renewable energy and telecommunications sectors, he returned to Senegal to participate in the development of Africa, which has an exponential potential for evolution.
Self-taught, endowed with a very good ability to relate and a strong adaptability, its knowledge in international trade as well as its strong network of contacts, allow it to evolve safely.
Finally, his strong interest in nature-related issues helps him every day raise public awareness of issues related to sustainable development.
His motto: "I'm just going faster, but together we go further."
Tatiana Gafinets
Russian Sales Manager
Communicative and creative, cheerful and open. After several years between the US and Spain in the tourism sector, I return to my native country, Belarus, where I have worked in several translation companies and at the International University "MITSO" as a teacher of foreign languages (English, Spanish).
Professor of history and English language at the International Institute of Humanitarian and Economic Sciences in Minsk, Republic of Belarus. Diploma in Spanish as a Foreign Language from the EOI, Valladolid, Spain.
My passion: People, animals, travel, photography, sports, reading. My motivation: to work in an interesting field where I can develop my job potential and my language skills.
Eugenio Cruz
Head of South America
Commercial Engineer from the University of Chile, Bachelor of Economics with a Major in Administration.
With more than 30 years of experience in Foreign Trade in direct relation to the establishment of Spanish companies in the Chilean market. 8 years as General Manager of the Official Spanish Chamber of Commerce of Chile and 22 years as Director in Chile of the Valencian Export Institute.
Passions: Skiing, which led him to be President of the Farellones Adelanto Corporation, the main mountain town in Chile. His other great passion is music as a jazz singer. Motivation: The undertaking of new projects and business implantation through consultancies and representations of foreign companies.
Join our distributor network
At Orache Desinfection we are always open to new collaborations to further optimize the relationship with our customers. If you are interested in working on our products or adding value to our distribution network, do not hesitate to send us a message.