The easiest disinfection
Our disinfectant tablets improve the protection offered by other disinfectants, adapting to very different needs but always with the best guarantees.
More applications, more protection, easier to use
Orache Desinfection offers a wide catalog of disinfectant, sanitizer and detergent tablets with a common commitment: to facilitate the use of our solutions to guarantee maximum protection.
Difference between: liquid bleach and bleach tablets
Bleach by definition is a liquid product and is alkaline base with sodium hypochlorite. Orache Desinfection manufactures sodium dichloroisocyanurate tablets, which is an acid. Once dissolved in water, it makes the same effect as liquid bleach.
How long does it take to dissolve?
The dissolution time is between 30 seconds and two minutes, depending on the temperature of the water. The hotter the water, the sooner it dissolves. Even if the tablet has not been completely dissolved, you can already use that water to scrub or disinfect any surface: floor scrubbers, surface cleaning, toilet, laundry bleach…
Tablets composition:
Contienen Dicloroisocianurato sódico di hidratado* (81%), Excipientes c.s.p.: 100%. i.e. q.s. means: "amount sufficient to" reach 100%. *Sodium dichloroisocyanurate dihydrate, also called: SDIC 55, Troclosene sodium.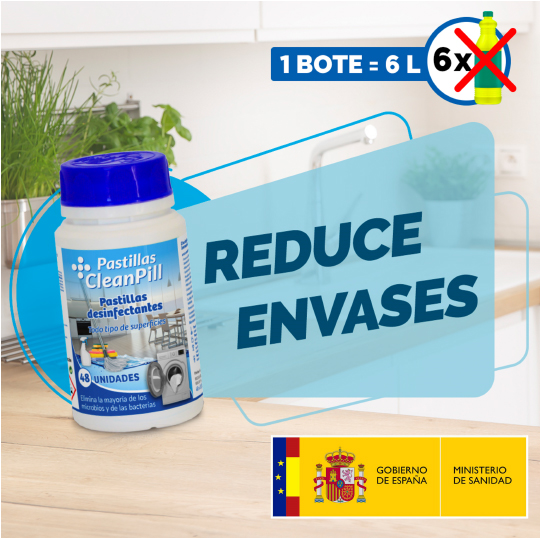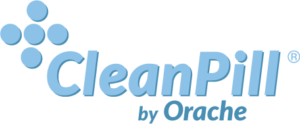 What are the most relevant standards that Cleanpill cumplies?
UNE – EN 13697
UNE-EN 13697: Antiseptics and chemical disinfectants. Quantitative non-porous surface test for the evaluation of the bactericidal and/or fungicidal activity of chemical disinfectants used in foodstuffs, in industry, at home and in the community.
UNE – EN 14476
UNE – EN 14476, for general virucidal activity, requires as mandatory to carry out the test with the three viral strains most resistant to the action of disinfectants and when a disinfectant is active against them, it can be considered effective against other viruses, such as any species of Coronavirus.
Our Cleanpill tablets are registered with the Ministry of Health as a biocidal product. Therefore, our products are disinfectants:
Registration No.: 16-20/40/90-07974
Registration No.: 16-20/40/90-07974-HA

The product concentrated in tablet can be being general public and also in professional scope. Their applications are very varied and can replace many containers of disinfectant liquids: floors, surfaces, to bleach white linen (both in washing machine and in hand washing), bathrooms, toilets, kitchen utensils, etc. are applied.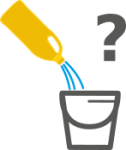 Difficult dose, poor control.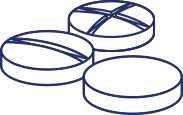 Ease, accuracy.
Tablet division.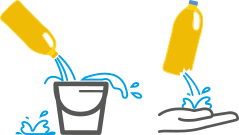 Risk.
Liquid and splashing.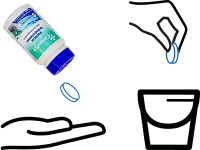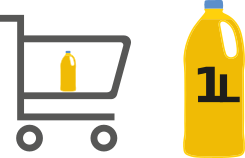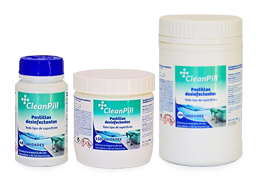 160 g, 1/2 kg and 1kg.
Saving weight and space.
We make innovation happen thanks to valuable feedback from customers, partners and the rest of society: you can send us any message and we will handle it with our full attention.